Oxford offers a wide variety of worship and welcomes visitors.
St. Paul's Episcopal Church- 34 East Main Street, Oxford, NY.
Rev. David Hanselman, Rector; (607) 656-9502. E-mail: dhanselm@gmail.com
The 150 year-old stone church (with the warmth of God's forgiving love at it's heart) invites you to join us for our weekly Sunday service or to have quiet, contemplation & prayer time. All buildings are accessible for wheelchairs.
---
Faith Bible Church- PO Box 128, 45 Butler St, Route 220W, Oxford, NY.
Rev. Josh Rathmell, Pastor Email: faithbiblechurchoxford@gmail.com;
Phone: 843-5068.
9:30 am -Sunday Bible School; 10:30 am -Morning Worship; 7 pm -Evening Fellowship. Wednesday: 7 pm - Prayer Meeting and Bible Study.
Faith Bible Church is a friendly family fellowship of Christians committed to teaching the whole counsel of God as found in his inspired word the Bible. Visitors are welcome at every service.
---
United Church Of Oxford- Main Street and Fort Hill Park, Oxford, NY 13830.
Pastor: Larry Cronk, phone 843-8644 
Organist/Choir Director: Francis Wilcox
We invite you to worship with us on Sundays at 10:30am. 
There is an adult bible study and coffee talk on Sunday mornings from 9:30 - 10:10am.
---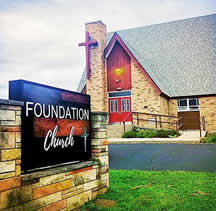 Foundation Church
"Build Community. Reclaim Faith. Make a Difference."
Join the people of Foundation Church every Sunday at 11:00 am for relevant worship, fun and exciting children's ministry and a down to earth message bringing biblical truths to life.  
Pastor: Richard Howard (email: PastorRich@FoundationUMC.com)
Location: 36 S. Washington Ave; Oxford, NY

---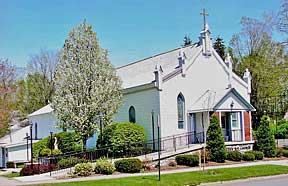 St. Joseph's Catholic Church- 3 Scott Street, P.O. Box 352, Oxford, NY. Pastor: Father Thomas Ward. 843-7021 or 656-9546.
"Deep in History, Rich in Faith and Love", our Catholic Community invites you to join us at our regular weekend liturgies--
Saturday Vigil Mass 5:30pm;
Sunday Liturgy 10:45 am -
Weekday Masses are Tuesday through Thursday: 6 am and Friday 11 am at the NYS Veterans Home.
Confession is Tuesday through Thursday 5:15 or by appointment.
We welcome new parishioners; for more information call Parish Office 843-7021 or email us at info@stjosephsoxfordny.com.