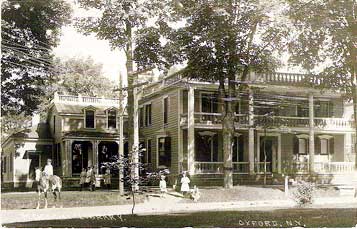 Theodore Burr House, circa 1908
Theodore Burr (1771-1822), was one of America's premier bridge engineers and designer. He is famous for designing and patenting a truss/arch combination that used a traditionally framed multiple kingpost truss to which a segmented timber arch was added. This is known today as the Burr truss. The Burr truss is one of the most widespread timber bridge designs that can still be seen in covered bridges today.
The Oxford Memorial Library is the former home of this illustrious covered bridge builder and the last known existing structure to be built by him. It was, therefore, the most logical location for a covered bridge resource center, and the Oxford library included it in their Capital Campaign expansion and improvement project that began in 2005.
Completed during the summer of 2011, the Theodore Burr Covered Bridge Resource Center's (TBCBRC) design was kept period appropriate with the Federal-style home in which Burr lived from 1811 - 1813. The Center is a modest room with two oak desks and a Federal blue upholstered chair and rug with many oak bookshelves displaying covered bridge models and truss examples (such as Queenpost, Kingpost, Howe, Town and Burr trusses). As part of its permanent collection, it also hosts a vast library of covered bridge related books, magazines and newsletters from all the bridge societies in existence today, as well as some that no longer exist. It also houses an extensive postcard, photograph and slide collection dating back to the early 1950's, much of which was donated as a gift of Sherburne residents Bob and Trish Kane. Thanks to a most generous donation by Terry and Sara Miller from Kent, Ohio, the Center now has several modern amenities including computers and scanners for the convenience of the patrons visiting the Center.
On July 2, 2011, the Oxford Memorial Library held a Grand Opening and dedication that coincided with the bicentennial of the library's building. There were displays by covered bridge societies in Fort Hill Park, music by the Oxford Community Band, dignitaries, speeches, a dedication ceremony, tours, refreshments, presentations, a barbecue, balloons, and even special guest (at the ripe old age of 240), Theodore Burr himself! (There is no known likeness of the famed bridge designer, so Bill Brower has given a physical image to the verbal Burr portrait.) During this celebration the Center was officially dedicated to the late Charlotte F. Stafford, former Town and Village of Oxford Historian; and Richard T. Donovan, "Mr. Covered Bridge Extraordinaire".
The Resource Center will be to research students, covered bridge societies, and fans of covered bridges what Cooperstown is to baseball. There is no other covered bridge center like it, anywhere. The new research facility is available for serious scholars who are looking for covered bridge images (photos, post cards, or slides), researching bridge history and details, and other documentation on covered bridges worldwide. For covered bridge fans, just being able to sit in the house that Burr built, will be extra inspirational.
A great deal of work went into making the Center just right, and it was made possible in part thanks to contributions from all over the U.S. and Canada. It is the goal of the Library for the Center to be self-sustaining and therefore continually relies on support from covered bridge groups and enthusiasts. Financial donations, as well as covered bridge resource materials are welcome as space allows. The Resource Center is open whenever the Library is open and by appointment. For donating resource materials, make a monetary donation or to set up an appointment to visit the Center, contact: Trish Kane, Collections Curator, at: bobtrish68@twc.com or (607) 674-9656.
The Resource Center is always looking for volunteers to assist in general office work such as filing, sorting, scanning, copying, etc. If you would like to volunteer 2-4 hours per week, please contact Trish for more information.
Location: 8 Fort Hill Park, Oxford, New York 13830. (607) 843-6146 / FAX 843-9157.
Resource Center hours are the same as the Library:
Monday – Thursday, 9:30 am - 8:00 pm
Friday - 9:30 am - 5:00 pm
Saturday - 9:30 am - 1:00 pm