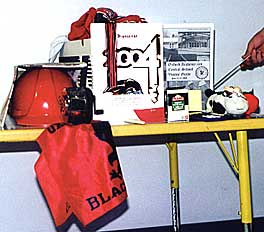 Enclosures for a special time capsule were announced on June 12th, 2004, during the "Oxford Academy Dedication Celebration". A formal presentation, at 5:45pm that day, was made declaring all of the contents of the official 2004 Oxford Academy Primary & High School Time Capsule. The presentation took place at the center of the two halves of the new Oxford Academy building. Entering through the center doorway, turning left into the Primary School, on the right hand side is the location where the "capsule" will be walled in. Many items, from documents to memorabilia, were collected and cataloged by the Oxford High School Government. Teachers from the Oxford Primary school also had their own special collection of meaningful items. The Oxford Academy students and teachers marked that eventful day, the year, and the era we live in, so that two decades from now, the future generation will have a "picture" of what life was like in 2004. There were so many things chosen, it was determined that using (caulked) Tupperware plastic storage boxes, would be the best, air-tight containers to protect the materials from the effects of time.
Present for the ceremony were: Superintendent of Schools - Gray Stevens; Primary School Principal - Barbara Tompkins; High School Principal - Mark Hine; High School English Teacher - Maria Burcroff; Primary School Teachers - Heather Hendricks and Debra Barnes; High School Student Government President: Nicole Edick; other students and general public.
| | |
| --- | --- |
| | Nikki Edick |
| | Justin Hubman |
| | Heather Hendricks |
Nikki Edick was first to read her list of 55+ items to go into the time capsule, while Student Government (class of 2007) representative, Justin Hubman assisted her. Representing the Primary School Teacher's and Student's collection was Heather Hendricks. Ms. Hendricks then read her list of very thought provoking items and documents that would represent the elementary students for the future.
A few items that hadn't made it in yet include a video tape of the school's construction, and the "Dedication Ceremony" video tape which includes that evening's Talent Show. (A video tape player with instructions will also be included in the wall, as it's probable no one in the future may have a VHS player.)
Principal Hine explained that there would be an opening made in the wall, where the boxes will be placed. Documentation of the "time capsule" will be recorded, and a special plaque will be hung on the wall to mark its location. (The actual "walling in" will be in the near future.) Only in twenty years from now, in 2024, will the capsule be opened. (You can bet that the Class of 2004 will have the historic opening penciled in for their 20 year reunion!) It is hoped that the future students, alumni, faculty, and anyone from the community will find these items remarkable, memorable, and historic.
Oxford Academy Primary School Time Capsule List
1. Kindergarten through 4th grade report cards.
2. Pictures of the staff and students at OPS.
3. New York State Elementary ELA, Math, and Science Tests (given in 4th grade).
4. Terra Nova Test for 3rd grade.
5. Primary School Instructional Audit.
6. A Video (VHS) tape of Morning Program at OPS.
7. The Book Dozer to the Rescue, which was donated to all students by Turner Construction.
8. 2003-2004 Slide Show depicting photos as a year in review. (Microsoft Power Point)
9. 20 Tips to Good Health (paper copy and on CD). This was a MS Power Point Presentation created by Miss Hendricks's Class and won third place in the BOCES Media Festival.
10. Think Big (on CD). Two MS Power Point presentations. One depicting the student generated slides (one for each 3rd grade student), and the second showing pictures of the residency in progress.
11. A Child's construction hat from Turner construction for DIRT (Dig into Reading Time (Our Parents As Reading Partners theme).
12. Parent/Student Handbook 2003-2004.
13. A Visitor's Badge.
14. A sample student behavior chart.
15. A VCR to play the VHS Tape.
16. A Visitor's Guide for the Dedication Weekend.
17. A School Calendar 2003-2004.
18. Morning Program Calendar from June 2004
Oxford Academy High School Time Capsule List
1. Football helmet
2. Hard hat
3. Kenny Menard picture
4. Class of 2004 pictures (4)
5. Dedication Weekend Scavenger hunt
6. Senior High School envelope (2)
7. Oxford Academy and Central School stationary (2)
8. Oxford Academy Style Guide
9. Oxford Academy Literary Magazine
10. New York State Read Aloud Information poster for 2004
11. Varsity Football Record Card
12. Oxford Academy Sports poster for 2003-2004 seasons
13. Oxford Softball Jersey (#21)
14. Oxford Athletics shirt
15. Oxford high school 2004-2005 course description booklet
16. Justin Hubman's schedule for 2003-2004 school year (Class of 2007)
17. Oxford Academy high school report card sheet
18. Oxford high school progress report
19. Wal-Mart bag
20. Package of Balloons
21. Manual pencil sharpener from Roger Carey's room 103 (U.S. History)
22. Oxford Academy and Central School Student disciplinary sheet
23. Oxford Academy High School student and Parent Handbook 2003-2004
24. Regents Examination Book and Wrap up paper
25. Oxford Academy and Central High School Course Offerings for 2004-2005
26. College Qualification sheet
27. Oxford Academy High School Instructional Audit
28. Oxford Academy High School Visitor Pass
29. Oxford Academy High School office telephone, and library passes
30. Oxford Academy High School Spring Vocal Concert (2004)
31. Oxford Academy High School Spring Band Concert (2004)
32. REA Top 100 Careers to the year 2005 book
33. Oxford Blackhawks 1995 banner
34. Oxford Class of 2004 tassel
35. American Red Cross CD holder (blood drive 2004)
36. Oxford Academy and Central School Visitor Guide to the dedication ceremony on Saturday June 12th, 2004
37. Oxford Academy High School Yearbook Volume number 50 for 2003-2004
38. Scientific Calculator
39. Can opener
40. Communications walky-talky
41. "Mics" comic strip on Saturday, September 25th, 1999
42. Copy of the Oxford Academy and Central School High School Diploma 2004
43. President Bush Article
44. Oxford Academy and Central School 2003-2004 Calendar
45. Press & Sun-Bulletin for Thursday, June 10th, 2004 announcing former President Ronald Reagan death and burial ceremony.
46. A "WE CARE" pin and card given to all teachers in Oxford during 2003-2004 school year
47. Oxford Academy and Central School name pin
48. Chalk (2)
49. Oral Thermometer
50. French Statue during 2003-2004 school year
51. Spanish Speaking cow from 2003-2004 school year
52. Oxford Academy High School pen
53. Post-It Fax note Oxford Academy High School Teachers pin
54. "Teachers: the heart of learning" squishy apple
55. Oxford High School Student Passes