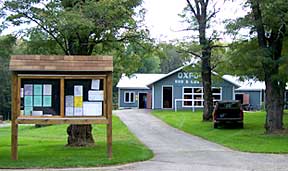 Oxford Rod and Gun Club
Address: P.O. Box 181, 214 Ingraham Road, Oxford, NY 13830
Contact/President: William (Coot) Connelly
oxfordrodgun@aol.com
Directions: Take Route 220 out of Oxford (towards McDonough). Turn left onto Ingraham Road, and go for about 1 mile (you'll see the Club's sign). The Oxford R&G is 5 minutes from Bowman Lake State Park.

William (Coot) Connelly: President
Craig Champlin V.President
Kelly Bauman Treasurer
Cindy Rifanburg Secretary
Board Members:
James LaPlante
Ed Maley
Doug Rifanburg
Dave Greene
Dominic Azzaerello
CLUBHOUSE: (607) 843-6856
ARCHERY- Dominic Azzarello 315-399-0043
RIFLE & PISTOL- Coot Connelly (607) 373-3103 373-1123(C)
BLACK POWDER- Jim LaPlante (607)859-2677 (607)434-8883 (C)
COWBOY ACTION- Jim LaPlante (607)859-2677 (607)434-8883 (C)
TRAP- Coot Connelly (607)373-3103 373-1123(C)
HUNTER SAFETY PROGRAM- Craig Champlin- (607) 843-9275
Annual Member ship $35.00 Family Membership $55.00 (membership contact should be Cindy Rifanburg 607-316-0428)
Events: See Club events calendar. Breakfast served on event dates. Sunday mornings, 7:30-10-30. Breakfast sandwich $5.00 All you can eat breakfast $10.00. Before signing up for events, come early to enjoy the all-you-can-eat breakfast. The breakfasts are held at the Club every Sunday morning from 7:00 AM for bow shoots and 7:30 AM for trap shoots. Ending time is 10:30 AM for both
Meetings: Meetings are held the second Tuesday of every month (except August and December), at 7:00 PM. The meeting in November is to elect officers. All meetings are posted on the OxfordNY Calendar of Events. Meetings are held at the Oxford Rod and Gun Club on Ingraham Road, Oxford, NY.
The annual "OxTAR" (OXFORD TRADITIONAL ARCHERY RENDEZVOUS), happens in August; Traditional Bows Only!
The Rod and Gun Club facilities are also for rent. Weddings, Anniversaries, Dances, etc. For info contact Cindy Rifanburg 607-316-0428 .
All are welcome to stop in and check out your local sporting club.